Lashes accentuate your eyes and can really make a difference in your appearance. On days where you don't want to put on a full face of make-up, it helps to be able to wake up with naturally thick and long lashes. If you don't want to go through expensive and time-consuming procedures to get longer, fuller lashes, follow these simple tips. With these fast and affordable steps, you can grow longer eyelashes at home without extensions.
How long does it take to grow long lashes?
Growing your lashes can take time without the right products. In my years of professional dancing, I had to wear thick false lashes with lash glue and heavy makeup every performance. No wonder my natural lashes were thinning and breaking! I desperately needed a product that I could rely on to repair the damage, and that is where the LiLash® Purified Eyelash Serum came in. It has been my go-to for years and now I can boast long and luscious eyelashes that fit all occasions! People literally ask me if I'm wearing lash extensions. That's how gorgeous my lashes are. It works faster than most growth serums. With just one swipe a day at bedtime, you're on your way to having luscious lashes that are long, thick, and curled. Plus, it is physician formulated and ophthalmologist tested making it safe for that sensitive eye area. Best of all, you'll start seeing results in as little as 30-45 days with full results in 90 (or your money back). That's practically magic!
Use a Lash Serum
Lash serums are the quickest, easiest way to achieve results in no time! Not only are lash serums designed to stimulate lash growth, they also reduce lash fall-out to keep your lashes looking fuller and healthier for longer. In just a few weeks of consistent use, you'll be able to flaunt beautiful lashes. So ditch those boring lash curlers and forget about fake eyelashes that look unnatural (yikes, I said what I said). In 2023, lash serums are your best bet for fast growing, beautiful eyelashes.

Which Eyelash Growth Serum Is The Most Effective?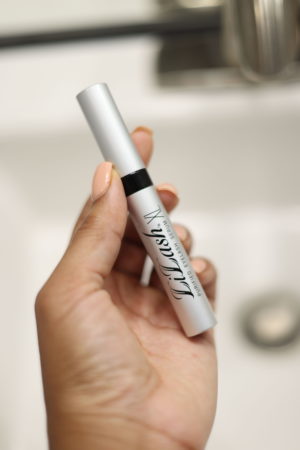 When it comes to lash serums, I admit that I have a bit of a love-hate relationship. After trying several products over the years and spending way too much money in the process, I can recommend a product that actually works best! Lilash has done what other lash serums promised but couldn't quite deliver: noticeably thicker and longer lashes in a very short period of time. I saw results as early as two weeks from using this lash growth serum.
If you're looking at your lashes in the mirror and thinking to yourself, "Gosh these lashes need help," then listen up because your prayers for long and luscious lashes have been answered! Enhancing your natural beauty by treating your lashes with a paraben- free eyelash growth serum can save you time when doing your daily make-up routine.
Maintain a Healthy diet
Well, they don't call them "essential" fatty acids for nothing! Hair is made up of an essential building block—protein—and it needs proper nutrition to grow longer, stronger and healthier. This includes getting enough of certain "essential" fatty acids. If you're looking for longer eyelashes, adding these fatty acids to your diet can be a game-changer. From omega-3 to omega-9, all are important for healthy hair growth. They are especially effective when paired with the right amount of protein and vitamins. Eating foods like fish, avocado and nuts can help maintain good levels of these fatty acids in the body. Supplementing with a trusted brand is also an option to ensure you have the necessities needed to sustain longer locks!
Take the Right Supplements
A daily dose of biotin is all you need to get ready for a future with long lashes. For anyone trying to get longer and thicker hair, biotin is a supplement worth considering. It is an essential B vitamin that has been linked to hair health and growth, as well as longer eyelashes! Although it can take several months before results become apparent, evidence suggests that taking biotin supplements can have real benefits for people experiencing thinning hair due to deficiency. So if you're looking for longer locks or naturally, longer lashes, biotin might just be the answer. Using vitamins in combination with a lash serum can have your lashes growing even faster.
With so many biotin options on the market, it can be hard to choose the one that works best for you. These are the gummies I've been using to support fast hair growth and overall immune system support. Depending on your preference (gummies, capsules, or pills), you can easily find a supplement option that will help speed up your hair and lash growth.
Be Gentle With Your Lashes and Yourself
If you really want to keep your eyelashes in tiptop shape, then avoiding excessive rubbing of your eyes is a must. After all, the more you end up yanking and pulling on them, the more easily they can break. Be gentle even when removing mascara after a long day. Not only will this make your peepers look unhappy and be sensitive, but it could also ruin your natural lashes. Try not to overdo false lashes with a bunch of chemicals and glue that leave you with thin and fragile lashes after ripping the extensions off. Use paraben- free products like Lilash Purified Eyelash Serum . By treating your eyelashes with the proper nutrients and ingredients, you will get the best long term results and enhance your natural lashes. If you don't want to find yourself with sections of your eyelashes missing (believe me I've been there), then it's probably a good idea to go easy on them.
It's easy to feel discouraged when our lashes don't look like the models we see in magazines, but it's important to remember that genetics and external factors can heavily impact their growth. A poor diet, sickness, or genetics can easily be a contributing factor to short, thin lashes. Be gentle with yourself and remember that every eye is unique. With patience and time, your lashes will eventually reach their natural potential!
Grab your discount
So, if you're looking for a way to achieve longer, thicker lashes without having to go through expensive and time-consuming procedures, then be sure to try out these tips and grab an effective lash growth serum from Lilash. Save money with my 20% discount code TIFF20. If it doesn't work within 90 days you are guaranteed to get your money back! Thank me later.
Don't forget to subscribe to get FREE goodies, and exclusive coupons to stores like Sephora and more. Get weekly newsletters with articles and reviews on the newest fragrances, fashion, and beauty products.
Join my exclusive community of fragrance lovers: The Fragrance Society. This community is a great place for people that love trying new scents, are looking to add to their collection, or would like to learn more about their signature and favorite fragrance. You will receive discounts, valuable fragrance guides and tips. Each week, I send out an email so that you can stay in the know and keep your fragrance game on point.