Turning 39 last year had me realize I needed to step up my game in terms of skincare. I'm all about maintaining my health, skin and selfcare, and using the right skincare tools is a big part of it. I've combed through the sea of skincare gadgets I have in my closet to share my list of the best high-tech, toning, and anti-aging devices to have in 2023. They keep your skin radiant and youthful over 40 (and beyond!) without expensive trips to the dermatologist.
These advanced skincare devices will not only reduce acne-causing bacteria, stimulate collagen production, minimize wrinkles, reduce puffiness, but also increase blood circulation to increase the growth of new skin cells.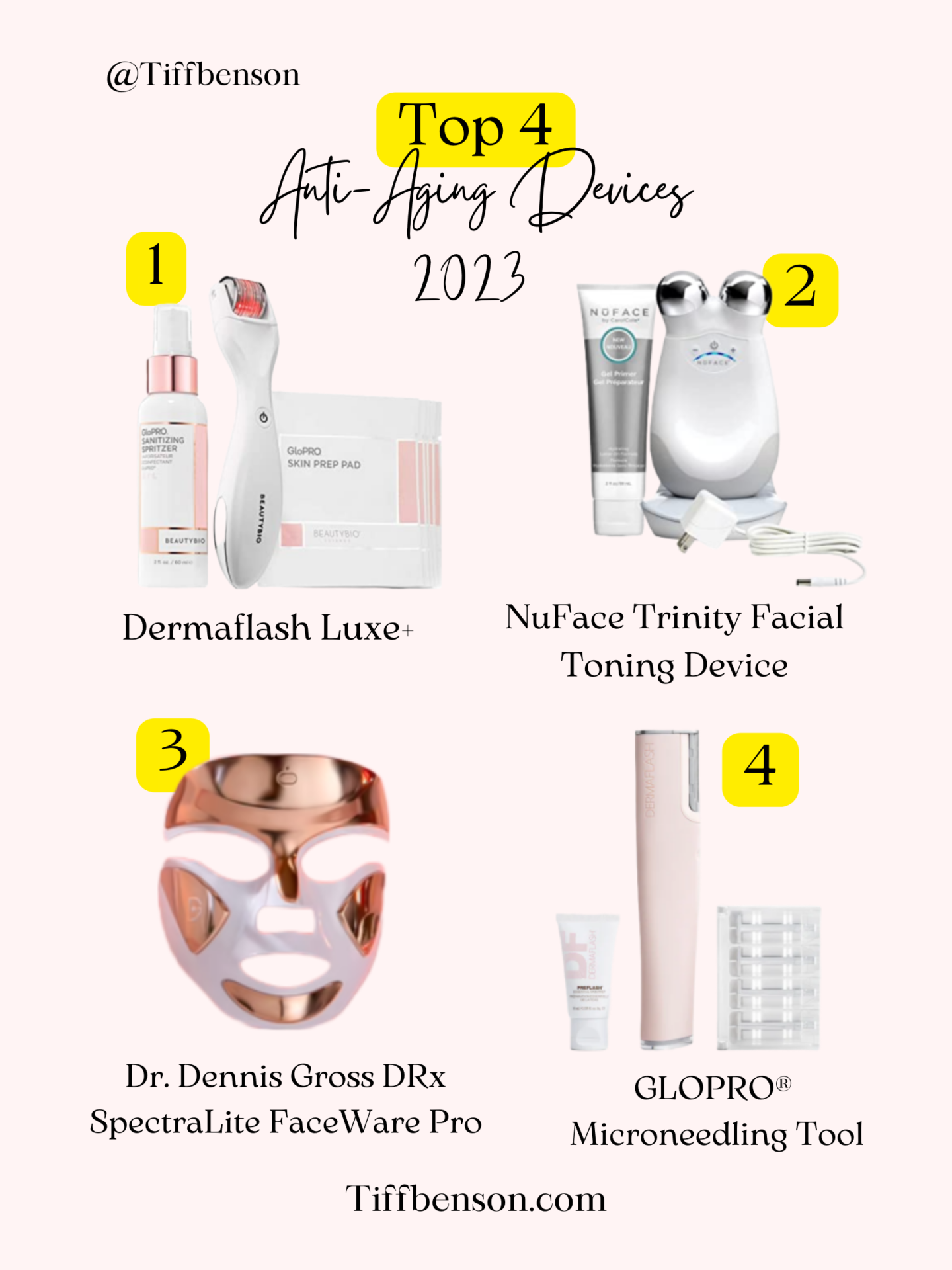 About this device:
The Dermaflash Luxe+ device is one of the beauty gadgets recommended by dermatologists and estheticians. It is a must have anti-Aging, exfoliation + Peach Fuzz Removal Device for those looking to upgrade their skincare routine at home. With this device, you can easily dermaplane, remove peach fuzz, dead skin cells, and built-up impurities without making frequent trips to a salon or dermatologist.
How to use:
Each order comes with a PreFlash Cleanser formulated with vitamin B3 and peptides to prep skin for dermaplaning. Use the B3 cleanser as preparation before. Gently glide the Luxe+ device across your face at a 45-degree angle in short, feathery strokes. Once complete, dispose of the single-use Edge and apply the Postflash Moisturizer for hydration and smooth skin after treatment. With a deep cleanse achieved through Dermaflash Luxe+, there's no barrier between you and fresh, beautiful skin! It has been clinically proven that it can be used without hairs growing back thicker or faster. This is hands down my favorite tool to use at home for anti-aging– I love it.
About this Toning device:
The NuFace Trinity Facial Toning Device is an essential anti-aging device in my anti- wrinkle skincare routine. This advanced-microcurrent facial-toning device from NuFace utilizes innovative microcurrent technology to reduce the appearance of fine lines and wrinkles. It helps with skincare concerns like loss of firmness and elasticity by lifting sagging cheeks, jawlines, and brightening skin tone. This facial toning device is one of the best because it produces visible results instantly – perfect for special events and romantic nights out where you want to look and feel your best!
How to use:
Use the accompanying gel primer and apply a bit of pressure while gliding the device over your face in upwards and outward motions. With minimum effort and time needed this anti-aging procedure will give you a youthful, lifted glow. It's ideal for everyday use.
About this device:
Acne is one of the most common skin conditions, and it often doesn't go away after you reach a certain age: I, unfortunately, know this all too well. To treat and minimize acne, daily self-care and maintenance are essential — something I've incorporated into my skincare routine. Acne hyperpigmentation and discoloration can lead to permanent acne scarring if left unmanaged. That's why I've included treatments designed and devices like Dr. Dennis Gross Skincare DRx SpectraLite FaceWare Pro in my routine. Whether you still experience acne or have moved on from it, acne management is essential for clear and healthy-looking skin. Dr. Dennis Gross FaceWare Pro is a new wrinkle-reducing and acne-fighting device that is safe, hands-free, and FDA-cleared. It helps reduce acne, fine lines, discoloration, and stimulates collagen production. With the right products and devices in your routine, you can reduce acne blemishes, hyperpigmentation and discolorations fast and easy.
How to use:
It features three intensity settings:
Red LED lights to penetrate the dermis and increase collagen production,
Blue LED lights to kill acne-causing bacteria while reducing signs of fine lines and inflammation,
Combination of both for a quicker treatment time.
It is simple to use: just turn the device on and put it on your face. This LED face ware is incredibly efficient at delivering results. It will improve the skin's texture without spending much time or money on acne treatments or at the dermatologist. With easy-to-use LED technology and wavelength light settings of red light, it boosts collagen production to treat face wrinkles, firm skin, and even skin tone within 3 minutes. You can see permanent results in a matter of days!
About this Micro-needling device:
If you suffer from big pores, acne scars/ marks, or acne breakouts, you need to try a micro-needling device. This award-winning micro-needling skin rejuvenation device helps with skincare absorption and creates a firmer, smoother looking skin with just 60 seconds of daily use.
The microneedles glide over the skin, activating your skin's natural rejuvenation responses to restore glow and produce new skin cells. This device also has LED red light therapy and microcurrent stimulation which helps reduce acne scars by boosting collagen production. With tiny sterile needles that vary in length, it produces deep, controlled, micro-puncture-induced injuries to the skin. This process helps open up pores, allowing serums and other products to penetrate even further, creating lasting results.
How to use:
It is best to use it in the afternoon and on clean skin. You can clarify and condition with GloPRO® Skin Prep Pads. Without adding any pressure, roll the GloPRO® Microneedling Regeneration Tool across the face in vertical, horizontal and diagonal directions for 60 seconds
If you have problematic areas that need extra attention, like bigger pores next to the nose or laugh lines, spend a few extra seconds in those areas. After using the microneedling device, follow with a facial serum or moisturizer.
Additionally, the embedded LED light helps improve acne by reducing inflammation and acne-causing bacteria, clearing up the skin after only a few uses. This GloPRO micro-needling devices is an all-in-one solution for your skincare needs. It's a must-have– no doubt about it!

Conclusion
It's no secret that having effective and time-saving skincare products and devices in our self-care routine is important in today's fast-paced world. I'm all for aging gracefully, but if I'm honest, fine lines and wrinkles are something I'd want to minimize or even eliminate. The anti-aging skincare market has exploded in recent years with a variety of different tools and devices, claiming to do it all. It can be hard to know what will work for you. That's why I thought I'd share these products that I've tried and have undoubtedly been working for me. So I'm curious to hear from you – what's your favorite skincare tool used in your anti-aging routine? Is there one tool that has skewed the odds in your favor more than others? Share your experiences below in the comments.
Don't forget to subscribe to get FREE goodies, and exclusive coupons to stores like Sephora and more. Get weekly newsletters with articles and reviews on the newest fragrances, fashion, and beauty products.
Join my exclusive community of fragrance lovers: The Fragrance Society. This community is a great place for people that love trying new scents, are looking to add to their collection, or would like to learn more about their signature and favorite fragrance. You will receive discounts, valuable fragrance guides and tips. Each week, I send out an email so you can stay in the know and keep your fragrance game on point.