We can all agree that your home is your sanctuary and we do our best to make our space a place that not only brings us comfort but joy. There are so many ways to elevate the feel of your home and pleasing aromas is one of those factors. Scent is one of those things that can honestly make or break your mood. Soothing aromas, calmer mind I say. The best scents for homes are ones that are fresh, clean, crisp and allow you to relax. Since we've had to be in our spaces more often, we've all really had to find ways to turn it into a space that not only fosters creativity but also productivity and having a scent that allows for this is important. Of course, you have to determine the best one for you and your needs.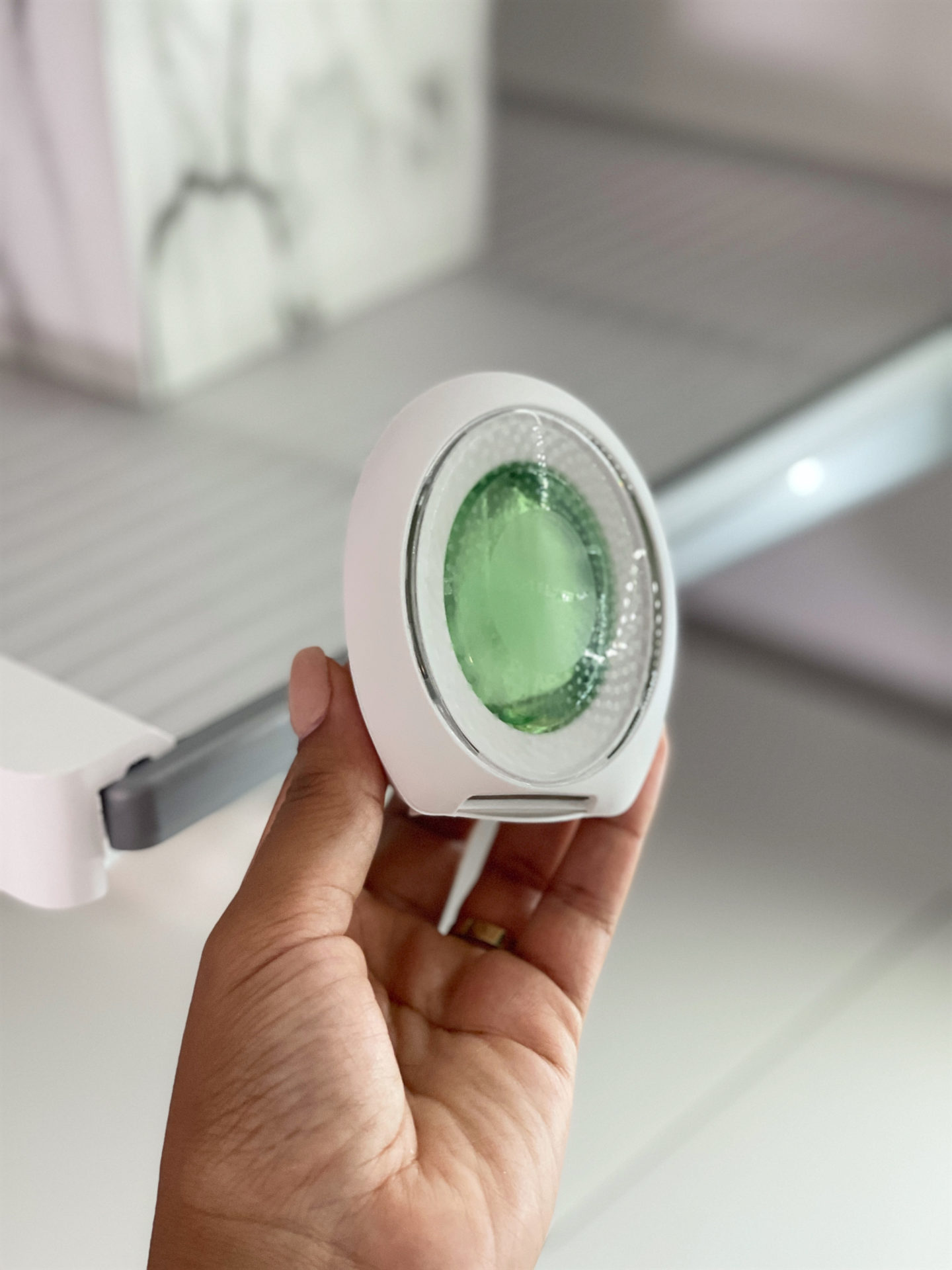 For myself, lately, I've been loving the way the Febreze Small Spaces products have not only eliminated odors but leaves scents that are so satisfying whether used after a deep clean or just to spruce up a room, closets, bathroom or any corner really. All you need to do is just click the button on the back and place it in any room that you'd like, and just like that you can eliminate and not just disguise stubborn odors- this is because the ingredients in Small Spaces are specially designed to bind to stinky compounds and turn them into water. Whether it be residual odors from liquid or food spills, or even those random smells you can never figure out, this scent really removes them all. There's so many to choose from such as Lavender which is perfect for a bedroom to promote a good night's rest, or a crisp Sea Spray that leaves any room smelling watery, floral and clean. Other favorites are Peony & Cedar, Linen & Sky and Fresh-Twist Cranberry. There's even one designed specifically for spaces your pets frequent. They last so long, too, a whole 45 days and all you need is to keep more on hand so you're never without them.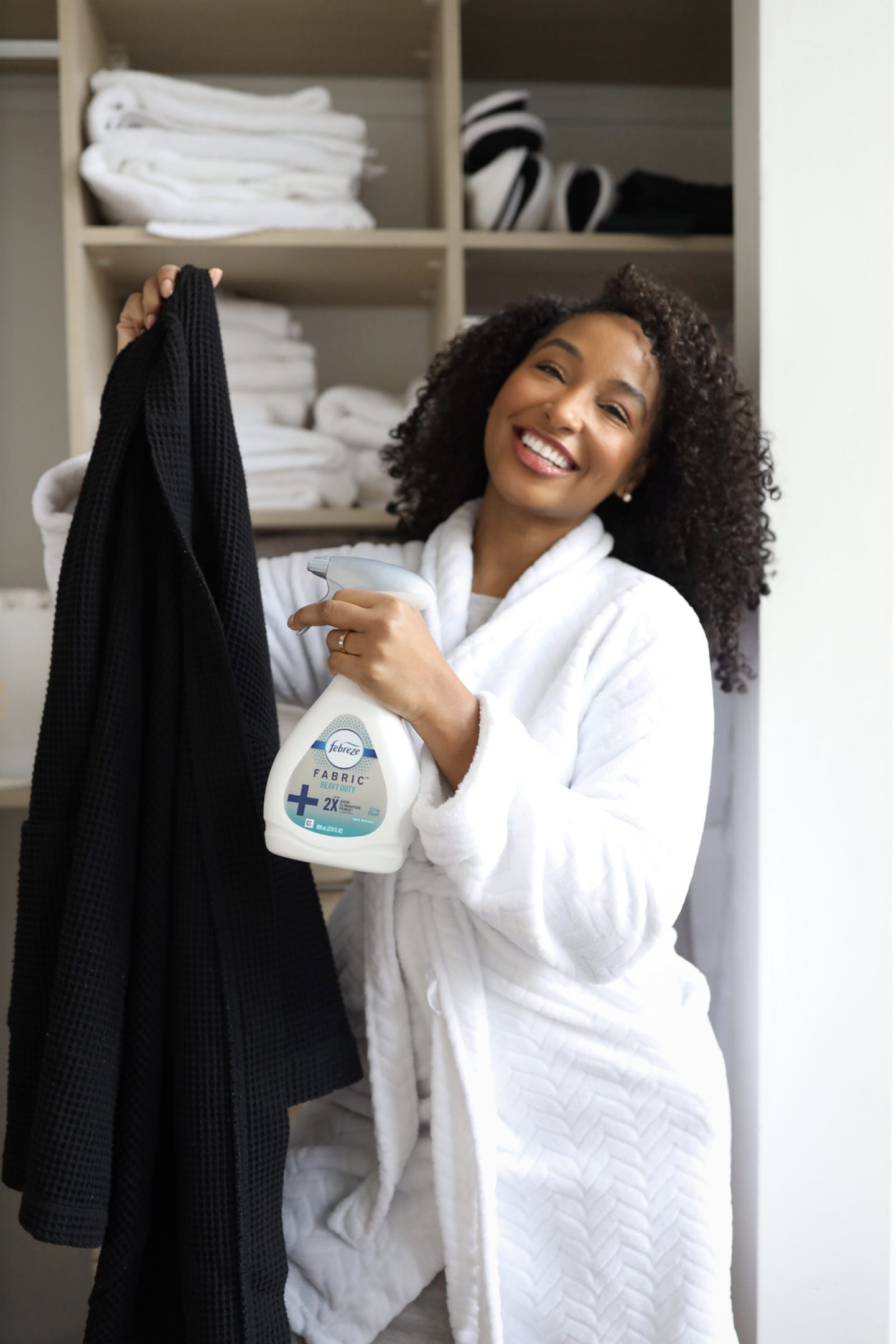 In addition to Febreze Small Spaces, another product that I've been loving is Febreze Fabric Refresher Heavy Duty Crisp Clean spray. This product has up to two times the odor elimination power than a standard Fabric product. I found that this spray gives my clothing that daily refresh it needs, especially if it's articles of clothing I tend to favor and wear more than once, such as the cozy robes I wear around the house. I also like to use this product on my sheets, curtains, and even on the carpet. It's a great product to keep in the home because it smells great, and with just a quick spray, immediately it gives that freshly laundered smell of crisp lemon and cucumber while eliminating odor, not just covering it up.
You also know how particular I am regarding the sustainability and safety of products I use daily in my home and Febreze is no exception in their ethos. They truly go above and beyond to adhere to safety standards designated by agencies such as the EPA. Safe cleaning products for you and your family is honestly a no brainer and Febreze strives to always deliver. Their spray ingredients consist of a blend of water, citric acid (yep – the same stuff found in lemons) for that fresh scent and 100% all natural and non-flammable nitrogen propellant which serves to eliminate odors and not just mask them. But don't just take my word for it, as Febreze is completely transparent in the safety of their products and you can check out their ingredients for yourself on Febreze.com.

I know you take as much pride in keeping your home smelling, looking and feeling great so if you're interested please head over to Febreze.com to shop + learn more. I promise you, you'll notice the difference immediately in the overall freshness of your space and you'll certainly be all the better for it.