If you've ever wanted to give your hair an extra special treat, then the PATTERN by Tracee Ellis Ross Treatment Mask is just what you need! This mask is absolutely amazing, and it has completely changed my hair care routine. It repairs and strengthens your strands while giving your curls more elasticity and definition. Shrinkage is very common with textured and curly hair causing your hair to look way shorter than it actually is. PATTERN Treatment Mask by Tracee Ellis Ross helps elongate and hydrate your curls. It keeps the bounce but gives it a moisture boost and some extra length.
Read on for more details about why this mask is so great.
Related: Top 7 Affordable Oils and Serums to Protect and Revive Damaged Curly Hair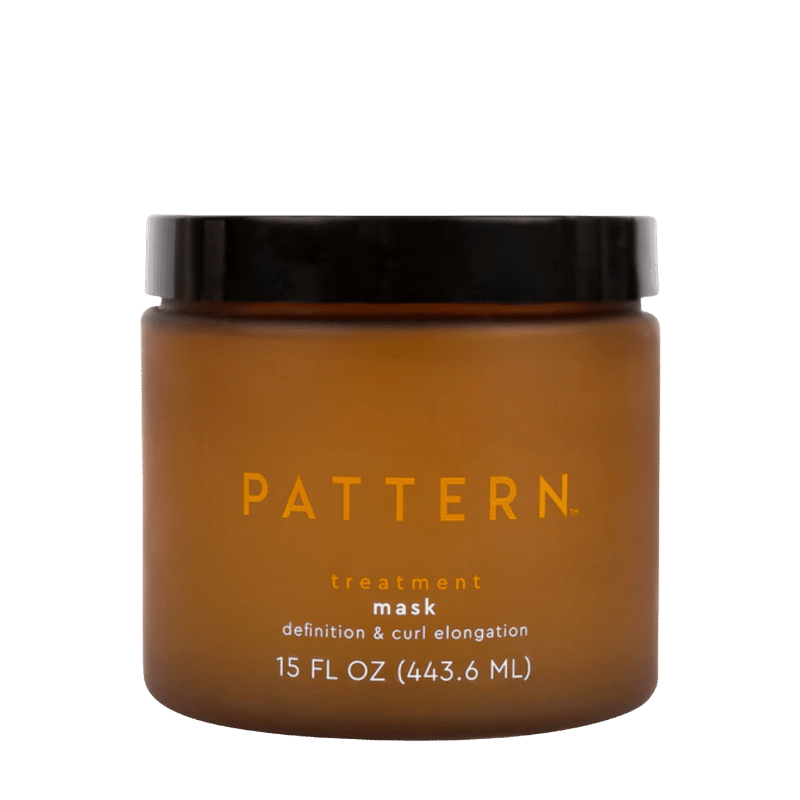 What Makes This Mask So Great?
Most curly hair products on the market are made by brands that don't know much about caring for textured or curly hair. PATTERN hair mask is a black-owned hair product for curly hair.
The consistency of this hair treatment reminds me of aloe vera gel. It's incredibly hydrating and effective. The formula contains all-natural ingredients like moringa seed extract, hibiscus, and rice protein that help to strengthen and soften the hair while delivering slip and curl definition to each coil. It makes my curls look bouncier and healthier after each use!
I also love that this product is color safe, making it perfect for anyone who loves to dye their hair or experiment with new colors. Additionally, it works great on all types of hair–wavy, curly, or coily–so everyone can benefit from using it!
The Benefits of Using PATTERN Hair Mask
The benefits of using this treatment mask are numerous! My curls always feel soft and nourished after using them. My scalp feel refreshed and healthy because the ingredients penetrate deeply into the scalp. Plus, my curls look more defined than ever before. I don't even have to use additional styling products afterward because the mask does all the work for me. It is a hair treatment that can be used on a regular basis. And since it's color safe, I never have to worry about any damage being done to my colored hair.
Does the PATTERN treatment hair mask contain protein?
This luxurious mask contains rice protein, which is one of the best natural ingredients for healthy hair. It increases volume, repairs damaged strands, strengthens, detangles, and smooths. Using it regularly can help manage your curls and make the untangling process easier. Regular use adds moisture, shine, and natural highlights. It improves the skin's moisture barrier for those with sensitive scalps.
Get ready to experience healthy hair goals like never before with this Treatment mask!
When I saw this mask featured Moringa seed extract, I was literally snapping my fingers like, "Yasssssss!". Moringa – also known as a drumstick, is a special tree with all edible parts (leaves, fruits, and flowers) and beneficial properties that promote healthy hair growth! Moringa oil is rich in zinc, which helps fortify the keratin production in our tresses. And you don't have to break the bank to get some. Depending on where you live, moringa oil may already be available at your local pharmacy or here on my amazon storefront! Trust me, girlfriend, if you asked me what's one ingredient that's a must-have in my curly haircare routine, I would probably tell you Moringa oil or moringa seed extract– for sure!
Hibiscus is another standout ingredient featured in this hair mask and the real star when it comes to strong, healthy hair. No need to keep this stunning flower in the garden; it has some hidden superpowers that make it a great addition to your hair care routine. Hibiscus not only adds shine but nurtures hair strands with proteins and antioxidants. Even better – its acids help protect against environmental toxins and slow down premature greying. You don't have to wait for summertime to enjoy some hibiscus action either. You can get your hands on dried powders year-round! But honestly, the ease of having hibiscus already featured in this hair mask treatment as a key ingredient makes all of the difference.
My Experience Using It
I had the most unexpected yet luxurious experience when I first used the PATTERN Treatment Mask. After washing out the shampoo, which I had already fallen in love with, I opened up the jar and was surprised to find it had an aloe vera gel-like texture. It threw me off—something like this had never been seen before in a hair conditioner. Still, I read the instructions and figured what the heck—why not? Boy, am I glad I did!
This luxurious conditioner felt amazing against my hair, it was like a little spa day for my scalp! The conditioning treatment left my curls feeling soft, hydrated, and thoroughly nourished. This was certainly no ordinary conditioner—to my amazement, it had an intensely hydrating effect on my curls, which translated into longer and more juicy strands of hair than ever before. Surely, when I'm looking for some black girl luxury in the shower, PATTERN is at the top of my list.
A Black Owned Brand for Textured Hair
PATTERN has made it a point to celebrate the unique textures of curly, coily, and tight-textured hair. That is something that other beauty lines haven't always given the attention they deserve. It is created by Tracee Ellis Ross and aptly named after the term that encapsulates each coil, curl and bend in natural textured hair. PATTERN firmly commits to celebrating and empowering different hair types from 3B to 4C. They have successfully cultivated products that help people from all over the globe get their best curls at home. Since PATTERN's launch in 2019, it has been recognized with several awards for its innovation and dedication to empowering different textures.
Try it out!
All in all, PATTERN by Tracee Ellis Ross Treatment Mask will give your curls an extra boost of hydration and definition without compromising on quality or safety. With its unique formula and natural ingredients, this mask will leave your curls looking healthier than ever before. What more could you ask for? Give it a try today and see why I can't stop raving about this glorious product! After treating your hair with this mask, don't forget to seal in some moisture or refresh your curls thoughout the week with one of my favorite oils or serums.