If you're looking for a luxurious, timeless wardrobe staple that will last you through many seasons, look no further than the iconic Max Mara Teddy Coat. This beloved Max Mara Teddy coat has been around since 2013 and continues to be a coveted item today. From its sophisticated faux fur texture to its unique oversized fit, here's why this coat is worth every penny.
Related: Explore The Polka Dots Encounter Between Louis Vuitton and Yayoi Kusama 2023
The Quality of Craftsmanship
The Max Mara Teddy Coat is created using sophisticated technology developed by their creative team with an Italian supplier. The result is a faux fur material that feels luxurious to the touch and looks stunning on any body type. Not only does it look good but it also feels good too—the coat's abundant volume provides warmth during colder months and its horn buttons add an extra special touch.
The Material
One of my favorite features of the Max Mara Teddy Coat is its material. It has a camel-hair texture and is made from an alpaca wool blend fabric on top of a silk base. This creates a luxurious faux fur feel that makes it both incredibly comfortable to wear and visually stunning to behold. The lightness of the fabric also gives it an airy feel while also providing warmth — perfect for when temperatures begin to drop!
The coat's Design
The oversized fit of this coat is both fashionable and flattering on any body type. The double-breasted closure paired with its lapel collar create an elegant silhouette that'll turn heads wherever you go. Pair his versatile coat with some skinny jeans or leggings for added edge! Not only that, but the coat also comes with two horizontal welt pockets for easy storage options when you need them most. Finally, the horn buttons add a subtle detail that really ties the look together.
Style & Versatility
The teddy bear shape of the coat adds instant glamour and playfulness to any outfit. It's designed with dropped set-in sleeves, lapel collar, and horizontal welt pockets for added style points. Whether you're going for a chic daytime look or an elegant evening ensemble, this coat can easily transition from day to night without losing its appeal. Plus, the oversized fit makes it easy to layer with other pieces in your wardrobe like sweaters or jackets while still looking polished.
Longevity & Timelessness
The best part about investing in the Max Mara Teddy Coat is that it's timeless. Tt never goes out of style! This coat will stay in your wardrobe for years to come because of its classic design and quality craftsmanship that stands up against wear and tear over time. No matter what trends come and go each season, this coat will remain as one of your go-to pieces for years ahead.
My Initial Impression of the teddy coat
As soon as I saw the Max Mara coat, my jaw almost dropped! I had admired the brand since day one and this piece was no exception. It was so cozy, casual, effortless but also just upped the ante of any outfit it graced! I saw other people wearing it for dressed up occasions or for super casual moments and it always looked great. My desire to own a Max Mara coat only grew stronger. However, what eventually pushed me over the edge was seeing how versatile and impactful even just a little bit of style can be when someone is rocking the jacket – I had to get my hands on one!
What Color to Choose
Nothing beats the sophistication and timelessness of a Max Mara, Teddy, coat in camel. I've been absolutely in love with this piece for so long now — the color is like butter! It's the perfect neutral hue that can easily be styled with any outfit you can think of! Not to mention you can dress it up or dress it down however way suits your mood. Even though that price tag may give you some cold feet, if given the opportunity to purchase this iconic item, I'd jump on it! There's no better way to add some oomph and glamour to your wardrobe than with this luxe piece.
My personal Favorite
Last summer I took a chance and chose my white Max Mara teddy coat over the camel one I had been swooning over for years. 
I was hosting in the Hamptons with Max Mara. At this private showing I was able to get an exclusive look at some pieces from the Max Mara collection and the teddy coat in white really caught my eye. While I was there, I tried on both the camel and the white. Everyone around me was stunned by the way the white teddy coat looked on me. It was a standout piece and I knew it was a winner. I had to have it in my collection. Glad I went with the white even though it wasn't an easy decision. Who knows where my wardrobe would be without it!
I will say this, if you're not used to wearing white all the time, then a white teddy coat is probably not for you. I mean, when you factor in the wear and tear it will get over the winter months, there's no doubt that a black or camel teddy coat will get more love. Even though the white teddy coat stands out more, picking this coat up in a hue that you feel comfortable wearing every day is worth investing in long-term. You don't have to be scared of getting it dirty either. Think about 'cost per wear' before making this purchase. Overall, I adore my teddy coat and trust me babe – it's worth it!
How to Care for Your Teddy Coat
Keeping your Max Mara Teddy coat in pristine condition will require some effort. Investing in a garment bag to store in when not in use is a must, as dirt and dust during wear can damage the fabric (composed of 62% alpaca, 26% virgin wool, and 12% silk with a 100% viscose lining).
Furthermore, professional cleaning at least once a season is advisable for ultimate care.
Caring for your Max Mara coat requires you to follow these special instructions:
do not wash;
do not bleach;
do not tumble dry;
cool iron;
professionally dry clean perchloroethylene – mild process;
do not wet clean.;
do not iron the buttons.;
protect buttons before washing.
Also note, the Max Mara teddy coat contains non-textile parts of animal origin.
Since this coat is an investment piece, you'll have to do some investing when it comes to maintenance. Doing these things will keep your teddy coat looking as fabulous now as it did when you first bought it.
Max Mara Dupes
If you are absolutely in love with the Max Mara teddy coat but can't justify spending so much money on it, don't fret! I totally get it. So, I did a little shopping and found some amazing alternatives and Max Mara Teddy dupes that look just as good and won't break the bank. Here are some options that I think you'll love. Check out the links below to find your perfect fit! Trust me, you won't be disappointed!
Angashion Women's Fuzzy Fleece Lapel Open Front Long Cardigan
Ugg Women's Gertrude Long Teddy Coat
ReachMe Womens Oversized Sherpa Jacket
Orolay Women's Fuzzy Fleece Winter Jacket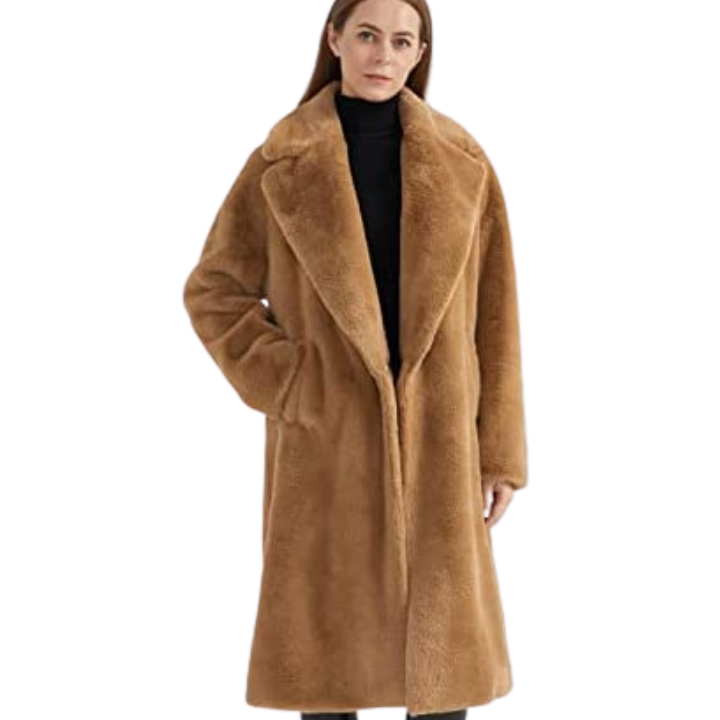 PRETTYGARDEN Women's 2023 Fashion Winter Coat
Do I Think the Max Mara Teddy Coat is Worth It?
If you're considering if the Max Mara Teddy Coat is worth it, I suggest taking a closer look at the cost per wear and finding a color that works with your wardrobe. You may want to get out there and try some less expensive alternatives before committing to such a pricey purchase. As someone who is a luxury minimalist, getting this coat was a no-brainer for me – I know I'll enjoy wearing it for years to come! With its luxurious alpaca wool texture on a silk base, beautiful oversized fit, and timeless design that lasts through many seasons. The Max Mara Teddy coat is absolutely worth every penny (and then some). It's stylish, versatile, comfortable—what more could you ask for?